Writer and director Andrew Haigh (
Looking: The Movie
,
45 Years
) delivered an emotionally-compelling piece of art in his 2011 critically-acclaimed
Weekend
, starring Welsh actor, writer, and director Tom Cullen (
Happily Ever After
,
The Other Half
,
Downton Abbey
), and English film and stage actor Chris New (
Ticking
,
Chicken
,
A Smallholding
). Movie database IMDb notes: "In the first major critical survey of LGBT films, conducted by the BFI in 2016,
Weekend
(2011) was named the 2nd best LGBT film
of all time
." (
link
) (emphasis added) Granted, I have not viewed many LGBTQ-related movies, and so my perspective is rather limited. However,
Weekend
is
the
best gay-themed movie I have ever seen, bar none.
Much like an experience I had recently, viewing this movie was also quite the surprise, as the British story unfolds between Russell (Tom Cullen), a shy and introverted gay male who ultimately wants a life-long committed relationship with another male, and Glen (Chris New), a gay male who insists that a life-long committed relationship is exactly what he is not looking for, at least not at this stage of his life. Having left early from a party with his straight mates, Russell, on his way home, decides to stop at a gay bar, where he is cruising Glen. The scene is typical bar-play in any club scene: gay or straight.

Glen, though, is interested in another man in the club. Feeling snubbed, Russell begins engaging a different young man, and the two seem to be paired up to exit the club for a one-night stand. The next morning, however, Glen is the one next to Russell in bed. Russell, having secretly brushed his teeth, makes the two of them a morning cup of joe. When Glen leans in to kiss Russell, Russell shyly retracts, claiming to have morning breath. But Glen can smell the toothpaste emanating from the mouth of Russell, exposing his fib, yet exposing more than just an innocent fib -- Russell seems embarrassed and uncomfortable with "the morning after." I promise you that this is significant to the story.
Glen is working on a project on the subject of sexuality and relationships, and he wants shy Russell to express himself about the preceding night's activities, an expression to which Russell very reluctantly succumbs. Glen is recording Russell and intends to publish the results at some future time. The two make plans to see each other again, say their goodbyes, while Russell watches Glen walk away from his 14th story apartment window. Glen, resolute and unaffected, does not look up.
Their second encounter is more communicative and less sexually-driven. Perhaps Russell is experiencing the beginning of his desire for a life-long committed relationship -- a notion that makes Glen nervous, even though he is still drawn to Russell, thinking that a relationship is
not
on his agenda. So Glen invites Russell to a party; he then, as though he forgot, informs Russell that he accepted a job in Portland, Oregon, in the States. Stunned, Russell wishes Glen all the best, though he cannot hide the disappointment in his face. But how upset could he be? He just met Glen and knows little about him. Being upset does not make any sense. Or does it? Russell watches Glen walk away from his 14th story apartment window. Glen quickly glances upwards at him and then continues walking.
During the next 24 hours the two begin to share worldviews and feelings and perspectives that at times clash and at other times harmonize beautifully. Within the context of booze and drugs the two laugh, argue, and begin to form an emotional bond that takes them both by surprise. They are vulnerable yet brave. Russell desperately fears showing affection to another male in public and Glen presses the issue. Glen still insists that he is not looking for a life-long committed relationship and Russell insists on the contrary: everyone longs to love and to be loved. Russell exposes a raw nerve within the psyche of Glen, a young man who has been hurt in love, a young man trying to protect his heart.
They both have issues to work on; and they both could help each other overcome their insecurities and flaws -- but Glen is still leaving. A relationship is not worth a career in America. This "morning after" is quite different, though; Glen awakes early to make the two of them the morning joe, the one who, the night prior, insists he is not looking for an intimate and caring relationship.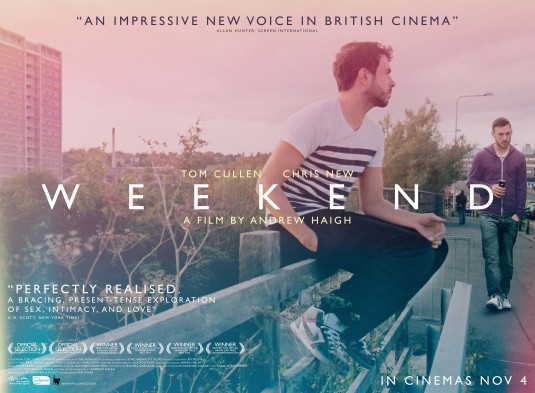 Glen commands Russell not to meet him at the train station to see him off. Russell watches Glen leave, from the view of his 14th story apartment window, while Glen looks up at him longingly. Russell, at a loss for hope, intends
not
to meet Glen at the train station. But when his straight friend interrogates him, asking -- begging -- him to open up and to share his feelings with him, Russell surrenders and tells him about the last couple of days with Glen. His friend encourages him to go see Glen off and even drives him to the train station. Somewhat playfully irritated, Glen admits that he just knew Russell would come to the train station, and that is when the beating heart of this story is fully exposed.
Glen embraces Russell as though he were the last man on earth who would ever love him; while Russell, shy and fearful, embraces Glen and kisses him in front of God and everyone watching. The two of them have been profoundly affected by the presence of the other in their lives. Still, Glen departs, but perhaps a changed man. Perhaps he will, someday, finally meet someone to love and be loved by. Incidentally, Glen gives Russell a small package, and he opens it by his lonely 14th story apartment window: the recorder Glen used to capture Russell's dialogue about their weekend exchange. Some experiences are just too personal, too sacred, to publish.

On a personal note, as I have been writing this brief review, I have had to stop several times in order to compose myself. I have not been this moved in years by a movie. For me, though, this was not just a movie. This is reality. Art, here, is showing us the unrefined nature of real life. I thought the movie adaptation of E.M. Forster's Maurice was moving, and inspiring, as was the stirring British movie adaptation of James Baldwin's Another Country; but Weekend struck a chord deep within me that will linger unlike others for years to come. The movie addressed issues of homophobia, the presumptuous nature of heterosexuals, and relationships, including familial, friends, and romantic ones. But, at least for me, the story of how two people who connect with one another on intimate levels is the driving force of this work of art. I know first-hand how a brief experience can alter one's worldview.

I think some heterosexuals would find the homosexual context and minor sex scenes in the movie off-putting. I also think this movie is too raw for overly-cautious, overly-sensitive, conservative evangelicals to view -- even though I think they should view Weekend. But this movie is no pretext for gay porn. This flick has a real beating heart rife with romanticism and not merely eroticism. I do think, however, that many heterosexuals would gain a sense of how off-putting heterosexual sex scenes in straight-themed movies are to homosexuals. Many of us no more enjoy watching heterosexual sex scenes in cinema than do heterosexuals enjoy viewing homosexual sex scenes in gay-themed movies.

Both main actors, Tom Cullen (heterosexual) and Chris New (homosexual), are absolutely and quite naturally superb in Weekend. Andrew Haigh's direction is spot on -- he captures the essence of the vulnerabilities of relationships and accomplishes this by allowing the characters a full vent of their emotions, fears, and purest desires. Weekend was honored as best film (or best director or actor for both Tom Cullen and Chris New) by the SXSW Film Festival, Nashville Film Festival, Toronto Inside Out LGBT Film Festival, Frameline, Outfest Los Angeles, Merlinka Festival, Oslo Gay and Lesbian Film Festival, British Independent Film Awards, Evening Standard British Film Awards, London Film Critics' Circle Awards, and the Crossing Europe Film Awards. (Weekend-film.com, IMDb awards, Pink News) Haigh's Weekend, for me, sets a new standard in gay narrative -- it is, for me, the standard by which all future LGBTQ films will be rated.
__________
GRADE: A+
RATING: 5 out of 5