When someone experiences trial after trial after trial, trusting God becomes difficult, perhaps leading the individual to think that God does not love him or her, but has possibly cursed the person, or has turned His back on the poor soul. One difficult trial can be a heavy burden. One difficult trial after another, however, can be crippling. Trials seem to innately communicate despair. Finding hope and faith during trials can seem impossible. Is God present during trials? Does He care?
Lately I myself have had to hope against hope that God loves me in spite of my trials. I look to the Cross of Christ and there I can know, intellectually, the love of God for me personally (1 John 3:16). Is that enough? Trials maintain a way of clouding my judgment. I can agree with St John that God loves me, and I can even confess it, but the weight of trials clouds my mind and my heart to experiencing or sensing or feeling emotionally in my heart that God loves me personally. Can you relate?
The apostle writes that, "whenever you face trials of any kind, consider it nothing but joy, because you know that the testing of your faith produces endurance; and let endurance have its full effect, so that you may be mature and complete, lacking nothing." (James 1:2-4) Consider it joy. I don't know about you but I don't consider trials a cause for joy but a reality I must endure. I've watched someone experience multiple trials and, while not denying Christ, believe that God may
love
the person salvifically but perhaps not particularly
like
the individually personally.
That is not a veiled reference to myself. While I'm experiencing my own set of trials presently, I'm not convinced that God does not
like
me, especially since He has proven that He
loves
me. The apostle then writes: Blessed is anyone who endures temptation (NRSV), testing (LEB), trials (ESV). (James 1:12) The Greek word (πειρασμός) refers to being tried, probation, an experiment, experiencing affliction, calamity, testing, trials, or temptation. (
link
) Such a one is counted as being blessed (Gk. μακάριος), someone to whom God has extended His benefits, to be fortunate, blessed or favored by God, or happy. (
link
) "Oh happy day, for I am being tried, and enduring painful trials!" Does that sound like a normal response from a rational human being?
I do, however, understand the gist of this spiritual discipline. The trials are a means of making us stronger in Christ, not weaker, as we learn to rely upon God
no matter what
-- no matter how difficult, how strenuous, how painful. We may despise the trial, but we learn to love and trust in God regardless, as we endure (James 1:12). The Greek word for "endure," ὑπομένω, refers to standing one's ground, remaining under a heavy load, bearing up against adversity by persevering. (
link
) The one who endures under heavy trials, trusting in the love and grace and mercy and kindness and power of God in spite of one's circumstances, such a one "has stood the test and will receive the crown of life that the Lord has promised to those who love him." (James 1:12)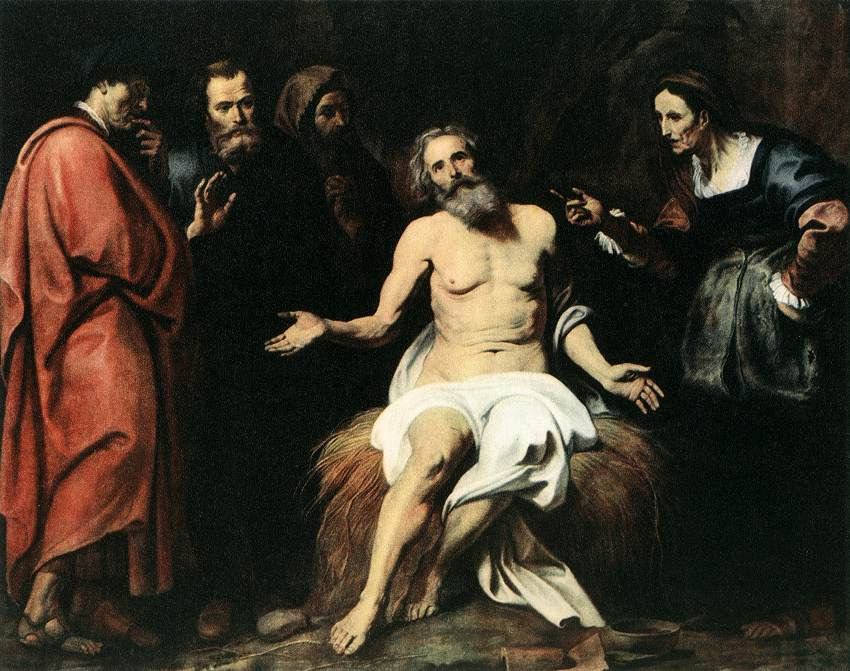 TRIALS OF JOB
What if we fail the test, the trial, the temptation? Failure belongs to us and not to God. "No one, when tempted, should say, 'I am being tempted by God'" (James 1:13). God does not test us to break us, to make us fall away, or to cause us to sin. A gardener prunes the plant in order to help it grow; he does not cut it down and cause it to die. We are never to attribute our failure or sin to God. When we fail, we acknowledge our failure, and turn to God immediately. He can and will restore us. But when we keep failing any of our tests, we will most likely have to keep retaking our tests, so that we can finally pass those tests and thereby grow into Christlikeness.
We are taught by St Peter to remember our common struggle: "Cast all your anxiety on him, because he cares for you. Discipline yourselves, keep alert. Like a roaring lion your adversary the devil prowls around, looking for someone to devour. Resist him, steadfast in your faith, for you know that your brothers and sisters in all the world are undergoing the same kinds of suffering." (2 Pet. 5:7-9) Our suffering is not ours alone: we all suffer to one degree or another. We are even called to
suffer with
those who are suffering (1 Cor. 12:26; Heb. 13:3). We may feel like we're alone in our suffering but we are never alone in our suffering. We suffer in the community of faith.
Trusting God is quite easy when our lives are cushioned with money, health, and favor. But when trial after trial after trial keeps knocking down our door, trusting in God becomes difficult, and trusting that God still loves us can be even more difficult. I have learned that being entirely transparent with God during difficulties has been helpful. The trials remain but at least I'm not trying to appear stronger than what I actually am in my pitiful human state. Henri Nouwen writes: "Those who are not afraid to ... shed tears in grief, and to let a sigh of distress arise straight from the heart, can break through paralyzing boundaries and witness the birth of a new fellowship."
1
Our relationship with God in Christ is enriched by transparency.
Think this way: God already knows how you feel, and what you're thinking, so you might as well be honest, be transparent, be real with Him. There is no sense in attempting to be strong in the presence of God when both you and He already know that you're weak. Let the words of Jesus echo in your mind until the truth sinks deep into your spirit: Without Me you can do
nothing
. (John 15:5) This cup that you have been given to drink -- that I've been given to drink -- is, according to Henri Nouwen, neither "a symbol of victory nor a symbol of death. It is a symbol of life, filled with sorrows and joys that we can hold, lift, and drink as a blessing and a way to salvation."
2
Not that our suffering brings us salvation but that the ultimate suffering of Christ is reflected in the temporal sufferings we endure. May God teach us how to trust Him implicitly smack dab in the very midst of our trials.
__________
1
Henri J.M. Nouwen,
Out of Solitude: Three Meditations on the Christian Life
(Notre Dame: Ave Maria Press, 2005), 42-43.
2
________,
Can Your Drink the Cup?
Tenth Anniversary Edition (Notre Dame: Ave Maria Press, 2008), 115.