I think Arminian scholars Keith Stanglin and Thomas McCall are correct in suggesting that "most scholars agree that Arminius taught that true believers can fall away."1 The authors acknowledge that, for some readers, Arminius himself is "ambiguous at times, indicating his own need for more study of the issue,"2 and I, too, once held that view. Given Arminius' apparent ambiguity, I interpreted passages of his which seemed to promote the doctrine of apostasy as not entailing an overt admission to that doctrine. I cannot now view Arminius' views on this subject in that manner.
For example, I would most heartily emphasize Arminius writing that he and his colleagues should study the topic in-depth before rendering a dogmatic verdict, yet conveniently ignore when he would explicitly argue, as in his discourse with English Calvinist William Perkins (1558-1602), that apostasy is a very certain reality. From his "Examination of Perkins's Pamphlet," Arminius responds at length to Perkins' use of certain passages of Scripture to support his theory that necessary perseverance is biblical,
assuming and defending the very opposite position
. (One might rightly suggest that, if Arminius believed wholeheartedly in necessary perseverance, then he might maintain absolutely no reason at all for this lengthy rebuttal.)
When Perkins insists that falling away is not possible because, should one return or repent, and have his or her faith restored, then such a one would have to be "ingrafted" again into the Vine, which is Christ Jesus. Arminius reminds Perkins that it is "simply not necessary for one who falls away to be ingrafted again: nay, someone will say that, according to Hebrews 6 and 10, he who falls away totally from the true faith is not restored by repentance."
3
Still, even from a different perspective than the one presented immediately above, Arminius contends that there is "no absurdity in it if they be said to be 'ingrafted a second time,' because in Romans 11:23 it is said of the branches cut away and broken off, that 'God is able to graft them in again.' If you assert that that is not to be understood of the same individuals, I shall require [from you] proof of the assertion."
4
Commensurate with the charge of a second ingrafting, Perkins also complains that the alleged fallen individual who repents will also need to be re-baptized. Arminius disagrees:
It does not necessarily follow from the second ingrafting that "a reiteration of baptism is necessary," because baptism once conferred on anyone is a perpetual promise to him of grace and salvation [a notion defended by Luther, as well], as often as he returns to Christ; and the remission even of sins committed after baptism is bestowed without a repetition of baptism.5
But here is the force of Arminius' conclusion that is pertinent to the debate regarding perseverance and apostasy: "Wherefore also, even if it be conceded that 'baptism is not to be reiterated' ... yet
it does not thence follow that believers cannot totally fall away
, either because those who totally fall away may not be entirely restored, or because, if they be restored, they do not require to be baptized a second time."
6
(emphasis added) Arminius will not grant his opponent any ground on this issue. Even if the matter of apostasy is predicated neither upon arguments concerning re-baptism, nor a second ingrafting, still reality and Scripture dictates that utterly falling away (from faith and, hence, salvation) is a very real possibility about which we are warned in Scripture.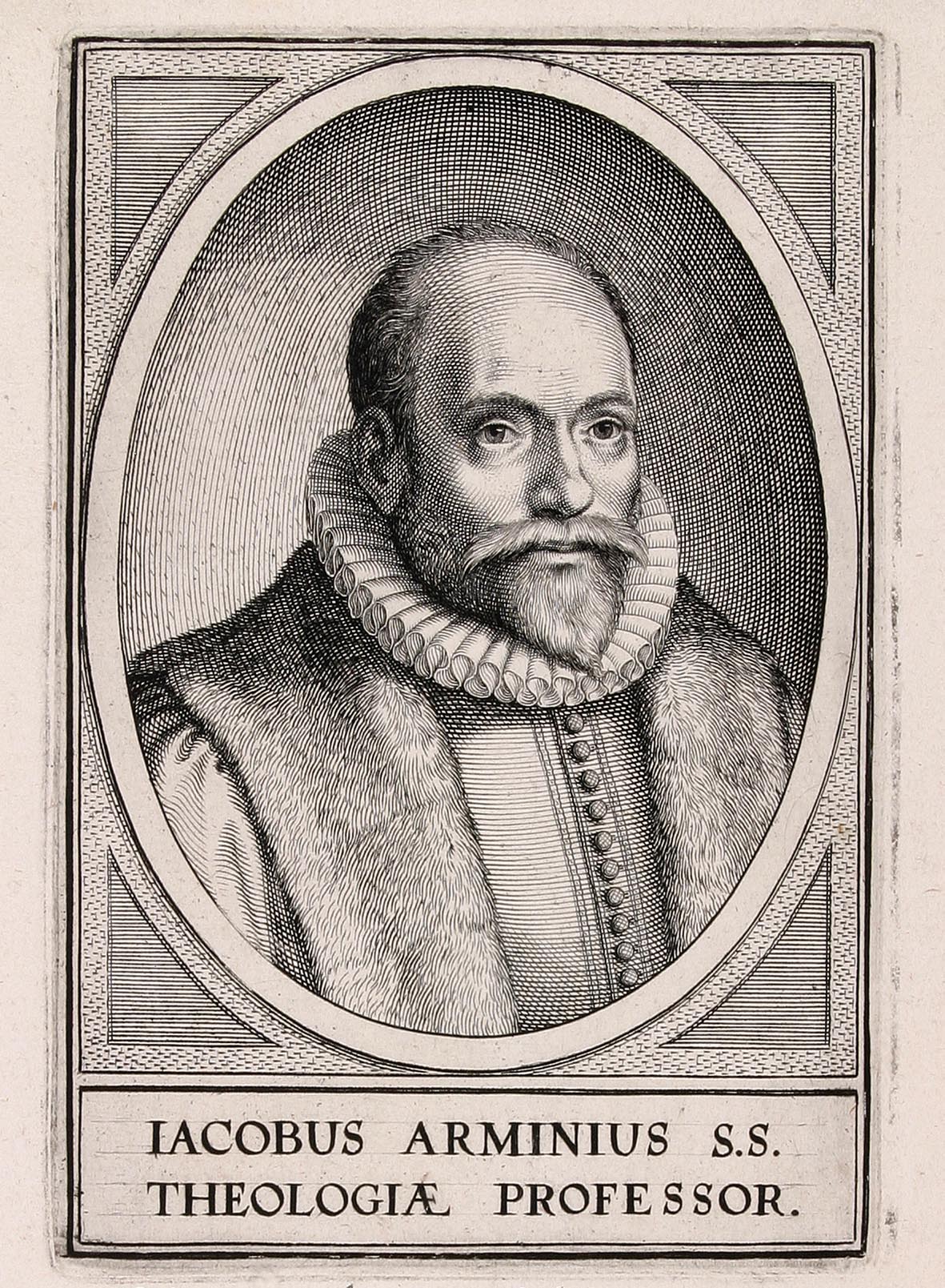 JACOB ARMINIUS (1559-1609) AND WILLIAM PERKINS (1558-1602)
When Perkins proffers 1 John 3:9 as support of his perseverance thesis -- "Those who have been born of God do not [continually] sin, because God's seed abides in them; they cannot [continue in] sin, because they have been born of God" (NRSV) -- Arminius responds: "I shall take the word 'remains' [abides] as signifying indwelling, but not the [absolute, unchangeable, necessary] continuation of indwelling." (In this Arminius is also challenging the concept and philosophical error of determinism.) He continues:
But, so long as the seed of God is in him, he sins not unto death; yet, by degrees, through his own fault and negligence, that seed may be taken away out of his heart; and so that second communication may perish, just as his first creation in the image of God has died away. But this argument, I allow, is the strongest of all which can be adduced to this purpose ... The seed of the word of God is in itself immortal, yet may be taken away out of the hearts of those who have received it, as [at Matthew 13:20, 21].7
From Arminius' theological perspective, all of the soteriological and heavenly blessings that a person can share are found in Christ (Eph. 1:3). Thus the
loci
of justification, sanctification, regeneration, glorification and ultimate salvation can be experienced in the future solely by union with Christ. This union derives from the grace of God through faith in the Lord Jesus Christ. Since Scripture grants warnings about being "cut away" from this union (cf. John 15:1, 2, 3, 4, 5; Acts 13:43; 14:22; Rom. 11:11, 12, 15, 16, 17, 18, 19, 20, 21, 22, 23, 24; 2 Cor. 6:1; Col. 1:23; 2:6; 1 Thess. 3:8; 1 Tim. 2:15; 4:16; 2 Tim. 3:14; Heb. 2:1, 2, 3, 4; 3:7-4:13; 5:11-6:12; 8:9; 10:19-39; 12:1-29; 1 John 2:24), then ultimate falling away from future salvation is a real possibility. If Scripture warrants a firm belief in a real possibility of falling away from future salvation, then no amount of proof-texting counter-contextual passages of Scripture are considered preferable, but must be viewed solely and primarily as conditional.
Arminius insists that some members of Christ, the Vine, can "die away": "But if they have not borne fruit, then they shall be cut off (John 15:2)." The fault lay not with the Vine but with "the branches themselves." Jesus really made this statement and believers -- those "in Him" -- really can be cut off by God His Father. Arminius continues: "And in Romans 6 there is an apostolical warning lest believers should live again to sin, when they are in Christ dead to sin; which warning is given in vain if it be impossible that they should henceforth, after their liberation from the dominion of sin [cf. 2 Pet. 2:20], live to it again."8

If St Paul were in any sense Calvinistic, he would most likely have framed this matter as do Calvinists: "God will see to it, by His Spirit within you, that you not let sin exercise dominion in your mortal bodies, to make you obey their passions." (Rom. 6:12) Or "God will see to it, by His Spirit within you, that you no longer present your bodies as instruments of wickedness." (Rom. 6:13, 16, 19) Instead, the apostle warns us against the real possibility of living once again in sin and, thus, falling away.

Arminius argues that "the mortification of the flesh" is a life-long process, sin not being eradicated "in one moment in believers planted with Christ and dead with Him." But if the believer produces "sins which deserve the wrath of God and destruction, and if God does not remit [forgive] these sins except upon sorrow and serious repentance, it follows thence that those who thus sin may be cut off, and, indeed, finally [ultimately, permanently], if they return not to God."9 (emphases added)

Arminius' theology is entirely Christocentric. He refuses to grant anyone a promise of salvation who lives his or her life in sin, without conviction and repentance, or who has rejected faith in Christ. Since the act of justification is by faith, which promises and brings about the forgiveness of one's sins, then faith is, indeed, the key to the doctrine of both perseverance and final or future salvation. In this particular debate with William Perkins, Arminius certainly keeps his finger on the pulse of perseverance, and he will not let up without a clearly biblical view of the matter.
__________
1 Keith D. Stanglin and Thomas H. McCall, Jacob Arminius: Theologian of Grace (New York: Oxford University Press, 2012), 172.
2 Ibid.
3 Jacob Arminius, "Examination of Perkins' Pamphlet," in The Works of Arminius, the London edition, three volumes, trans. James and William Nichols (Grand Rapids: Baker Book House, 1996), 3:456.

4 Ibid.

5 Ibid.

6 Ibid., 3:456-57.

7 Ibid., 3:457.

8 Ibid.

9 Ibid.